Vivo x27 is now available to buy for you if are you waiting for this smartphone. The big features are in this device Vivo x27 its pop-up camera, its to faster work after your touch Vivo x27 also have long battery life.
So here is its smaller brother which is more affordable than the high invariant this is Vivo x27.
It also has a pop-up camera solution but this one is a bit different let's take out the phone so as you can see the phone is looking extremely shiny in this white color the back of the phone has a gradient appearance Vivo x27.
Vivo x27 First, look experience

So when it comes to the first impressions the phone is looking extremely slim groupie as well as lightweight, this is a glass back so you may need to apply a case for preventing fingerprints cops.
The phone has several colors and it looks stunning on all of those I really like this design what you think let us know in a comment.
Also read: Line Art |line art vector| Defination
Display
The Vivo x27 comes in 2 variants 1 is powered by the Snapdragon 675 while the other comes with 710 processor under the hood and I don't know why the Snapdragon 675 variant of this smartphone is cheaper than the Snapdragon 710 version we will discuss about pricing further in this video the phone has a 6.39 inch full HD plus super analog display with super slim bezels the bottom chan has been extremely reduced which is great.
Review the Vivo x27 Explain specification
Body of Vivo x27
The phone also retains a headphone Jack and you will also find a USB type C. port at the bottom. Speaker grills and the sim tray are also shifted at the bottom the pop-up mechanism is at the top with a Mike receiver.
So being coming with an analog display the device has an in display fingerprint sensor so let's quickly set up the fingerprint sensor and have a look how quick it is.
Read : what is hdfc food card | Its free ! how make
The fingerprint scanner doesn't take too much time to analyze the finger so as you can see there's a mark here where to place your finger just tap and unlock it is really quick there's no doubt.
So a good implementation this is the Mobile sixth generation in display fingerprint scanner and it is really quick.
Camera
So the smartphone comes with pretty impressive camera features on the back of the smartphone is a 48 megapixel Sony I am ex 586 primary camera a 13-megapixel wide angle lens and a 5-megapixel depth-sensing camera.
The mobile is capable of shooting crystal clear photos here are some of those. This is a normal picture and here's the one shot with a wide angle lens this is great. More specification.
The wide angle lens is really a great feature to have other than that you will also get a night scene mode in this device that will let you click brighter pictures in the night.
VIVO V15 vs VIVO X27 WATCH NOW
Front camera
In the front, the phone has a pop-up camera solution that comes with 16-megapixel lands that slide out in just 0.68 seconds.
This letter comes with colorful light strips on each side these lights are customizable and can change between 6 different colors you can check how quick it is. This seems durable also what you think will it last long for years provide your opinion in comments.
Storage
So as we have discussed the smartphone comes in 2 variants 1 with snapdragon 600 75 coupled with 8 gigabytes ram plus 128 gigabytes storage another version is supported with snapdragon 710 chipset together with 8 gigabytes of ram and 256-gigabyte storage.
Battery
The Vivo x27 has a 4000 mAh battery with support for flash charge 22.51 fast charging you will get fun touch always here together with android pie out of the box. So the case you are getting here is a hard case that has a cut out on the top so this is all we can share about this mobile what are your opinions about the device.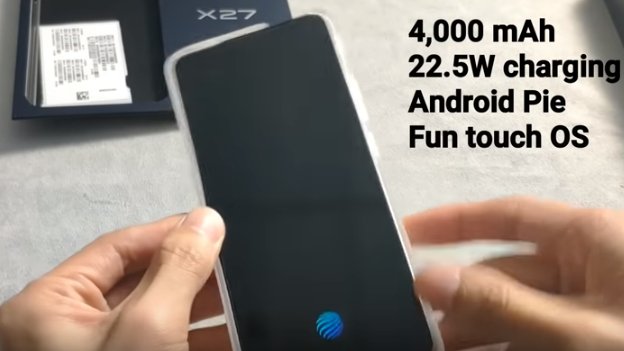 Bottom line